By: René Himpe, Year 9 Grey
NBA 2K13 is a basketball video game developed by Visual Concepts and published by 2K Sports. It was released on October 2, 2012 in North America for the Xbox 360, PlayStation Portable, PlayStation 3, M
icrosoft Windows and Wii. A version for the Wii U was also released as a launch title in North America. Kevin Durant of the Oklahoma City Thunder, Blake Griffin of the Los Angeles Clippers and Derrick ROse of the Chicago Bulls are the cover atheletes. NBA 2K13 is the successor to NBA 2K12 in the NBA 2K series. Rapper, Jay-Z, is the executive producer of the game.
[

]
Around Mid-June, 2K sports started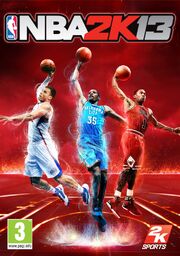 a campaign where if people tweeted with the hashtag #NBA2K13, clues would be released about the cover atheletes. The more tweets that went out the more clues were released.
Pre-Order Bonuses

[

]
2K Sports announced that if you pre-ordered NBA 2K13, buyers would recieve exclusive All-Star weekend content such as the Slam Dunk Contest, Three Point Contest, RIsing Stars Challenge and the NBA All-Star Game.
Game Modes

[

]
Apart from Quick Game Modes, there are three other game modes:
MyPlayer- Make your own player and control his career.
MyCareer- Choose an existing NBA player and control his career.
Association Mode- Take control of a basketball team.